Confirmed panels coming to EGX Digital!
PAX X EGX will be hitting regular-sized screens on 12th – 20th September, and we're super psyched to announce the line-up of panels coming your way.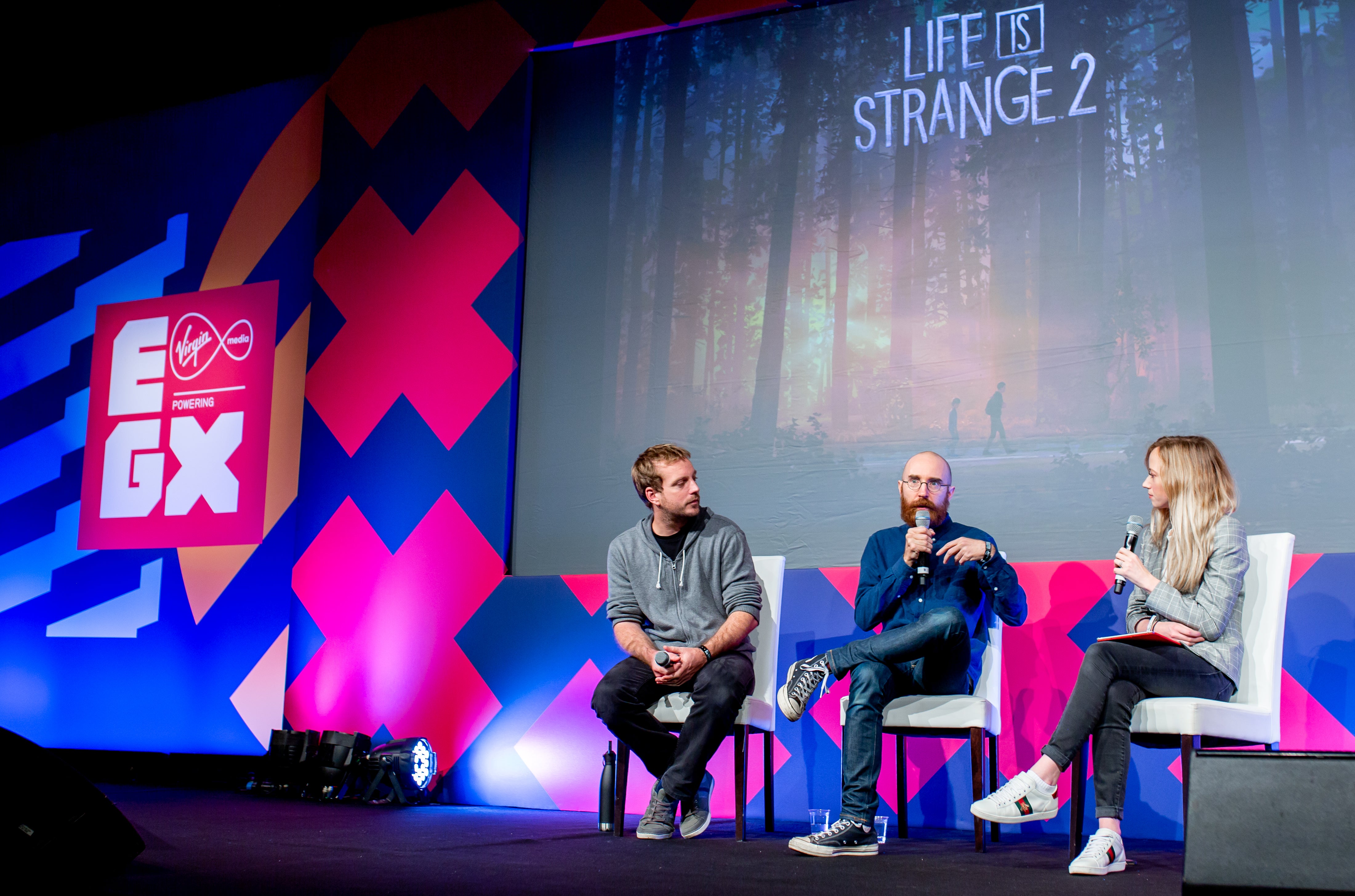 Confirmed panels coming to EGX Digital!
PAX X EGX will be hitting regular-sized screens on 12th – 20th September, and we're super psyched to announce the line-up of panels coming your way. We'll be continually updating this page with cool talks and discussions as and when they're announced, so make sure to check back here for more epic video game content. Here's the good stuff so far:
Sunday 13th 2pm
Masterminding Tactical Strategy with Peaky Blinders: Mastermind, Space Crew and Partisans 1941
Panellists: Anton Martyshenko, Sandy Lockie, Dave Miller
Twitter: @RunnerDuckGames, @FuturLab and @PartisansGame
Acclaimed developers FuturLab, Runner Duck and Alter Games take you through their latest creations and discuss their approach to designing games that challenge players' minds rather than their trigger fingers. This will feature new information about both Space Crew and Partisans 1941 prior to their launch later this year, as well as insights into the development of the multi-format strategy hit, Peaky Blinders: Mastermind.
Sunday 13th 3pm
Keeping An Open Mind
Panellists: CaitlinRC, Becky Frost, Mxiety, Alex Kanaris-Sotiriou & Johnny Chiodini
One in four people will suffer from a mental health condition in their life - something that the gaming world has begun to accept. This panel featuring Becky Frost, Johnny Chiodini, Alex Kanaris-Sotiriou, Mxiety and CaitlinRC, talks about the representation of mental health in the games, how we use gaming as a coping mechanism and the communities that are built around them.
Sunday 13th 5pm
Bring your cosplay ALIVE!
Panellists: Katya Fern
Katya Fern presents a guide on how to bring your cosplays ALIVE! She'll be talking all things; Posing on camera, working with TOGs/Videographers, characterisation, how to bring the best out of your cosplay! Showing you behind the scenes footage on some of her most impressive photoshoots. Get your dose of #WonderWisdom !
Monday 14th 1PM
'HITMAN' 20th Anniversary: In Conversation with Agent 47 Voice Actor David Bateson
Panellists: David Bateson & Ian Higton
Celebrating 20 years of voicing Agent 47 in IO Interactive's acclaimed blockbuster video game franchise, Hitman, Eurogamer's Ian Higton interviews actor David Bateson on this extraordinary achievement, his diverse acting career, connecting with fans at EGX, and what it's like portraying one of the most iconic and dangerous characters in video games.
The next game in the beloved series, HITMAN 3, is the dramatic conclusion to the World of Assassination trilogy and takes players around the world on a globetrotting adventure to sprawling sandbox locations. Agent 47 returns as a ruthless professional for the most important contracts of his entire career. HITMAN 3 will be available in January 2021 for PlayStation 5, PlayStation 4, Xbox Series X, Xbox One, Stadia and PC.
About David Bateson
HITMAN's Agent 47 is an immensely complex character and David Bateson has brought a brooding, melancholic intensity to the role. His Voice Arts Awards nominated portrayal of an assassin-for-hire is both dangerous and appealing in its flawed humanity. Over the years he has also added a new level of depth to the already complex character of Agent 47 while strengthening the relationship of the fans to the personality of this trained assassin. www.davidbateson.dk
Monday 14th 2PM
Röki - Holistic Storytelling
Panellists: Tom Jones & Alex Kanaris-Sotiriou
Twitter: @PolyTreehouse, @itsnotunusual, @Kanaratron
The creators of the award-winning indie game Röki discuss their approach to interactive narrative, namely 'holistic storytelling'. Video games are an interactive audiovisual medium and a script is just one of the tools we have at our disposal to create and craft stories. Tom and Alex take us on a deep dive into the layered techniques behind Polygon Treeehouse's modern take on a classic genre.
Monday 14th 3PM
Getting Into Games - Games & Wellbeing with Elle Osili-Wood
Panellists: Elle Osili-Wood
Join the Into Games team alongside TV Host, Reporter, and all round games guru Elle Osili-Wood for the second episode of the Getting Into Games podcast - the monthly show on all things games, games development, and games careers. This time we're discussing games and wellbeing; what links are there between games and mental health, how does the industry tackle mental health in their games, and can videogames be used as a tool for positive wellbeing? We also take a deep dive into Elle's unexpected path into the industry, as well as her advice for making it in games.
Tuesday 15th 12PM
The RPS Electronic Wireless Show Live
A live version of the RPS podcast, with audience interaction. This week the gang talk about life sim games that let you live an amazing existence, vicariously. Mostly so we could make a weak pun on 'live/life' if we're honest.
Tuesday 15th 1PM
Digital Storytellers Panel
Panellists: Xalavier Nelson Jr., Alex Kanaris-Sotiriou, Marigold 'Goldie' Bartlett & Mel Phillips
Twitter: @WaywardStrand, @WritNelson, @lilmissphillips, @SilverRainGames, @Kanaratron, @PolyTreehouse
'Digital Storytellers' discusses the unique strengths, opportunities and pitfalls of storytelling in modern video games. The panel will cover the range of tools available to the interactive storyteller; from writing, gameplay as a narrative vehicle, use of audio, the impact of cinematography and more.
Tuesday 15th 4PM
Vampires, Wraith, and Werewolves - the next generation of indie World of Darkness games
Join three indie developers working on different video games set in the World of Darkness universe (Werewolf: The Apocalypse, Vampire: The Masquerade, Wraith: The Oblivion). During the discussion, the viewers will have a chance to get free game keys from each of the developers.
Tuesday 15th 1PM
The RPS Electronic Wireless Show Live
A live version of the RPS podcast, with audience interaction. This week the gang talk about life sim games that let you live an amazing existence, vicariously. Mostly so we could make a weak pun on 'live/life' if we're honest.
Wednesday 16th 1PM
Dicebreaker plays Romeo And Or Juliet live with you, the audience!
Join the Dicebreaker team as they act (and over-act) their way through Ryan North's hilarious choose-your-own-adventure take on Shakespeare, guided by the directions of a live audience. There'll be star-crossed lovers, thumb-biting, tragedy, comedy, tragicomedy - and maybe even a killer robot or two. Who decides what happens? You do!
Thursday 17th 1pm
Maestros and Sirens of Video Game Music
Panellists: Adele Cutting, Gareth Coker, Aeralie Brighton, Joris de Man, Julie Elven Inon Zur & Mimi Page
Twitter: @garethcoker, @aeraliebrighton, @inonzur, @mimipagemusic, @jorisdemanmusic and @julieelvenmusic
Join award-winning composers and vocalists Gareth Coker & Aeralie Brighton (Ori and the Blind Forest / Ori and the Will of the Wisps), Joris de Man & Julie Elven (Horizon Zero Dawn / Horizon Forbidden West), Inon Zur & Mimi Page (Fallout 4 / Fallout 4: Far Harbor), with audio director Adele Cutting (Soundcuts), as they discuss the power of the human voice, their collaborative process, and creating emotional and iconic scores for video games.
Friday 18th 4.15pmPM
here's Never Been a Better Time to Play Board Games: Here's why, and how you can get started
Dicebreaker's Matt Jarvis and Alex Lolies are joined by special guests Eric Yurko of What's Eric Playing?, Miklos and Starla of Our Family Plays Games, Kareem - aka the Board Game Minimalist - and Amy Dickinson from The Game Shelf to discuss the current golden age of board games, the best tabletop games you might've missed and what you should play first if you're looking to go beyond Monopoly and Scrabble.
Saturday 19th 2pm
Bullets Per Minute Let's Play With The Devs | Bullets Per Minute Gameplay
VG247 and Awe Interactive take a look at this rhythm-action FPS rogue-like.
Saturday 19th 3:20pm
Getting Up to Speed: DiRT 5, Hotshot Racing, F1 2020 and the Resurgence of Racing Games
Panellists: Trevor Lay, Joe Binks, Robert Karp and Lee Mather
Join Trevor Lay from Lucky Mountain Games, Joe Binks from Sumo Digital, Robert Karp and Lee Mather from Codemasters to discuss the past, present and future of racing games in 2020 from established racing sims like F1 2020 to DiRT 5, as well as retro arcade experiences like Hotshot Racing - chaired by Eurogamer's resident motorsport expert, Martin Robinson.
Sunday 20th 1pm
Cross Platform - Involve Everyone
Panellists: Stuart Shortland, Jason Patrick, Stuart Nightingale, Jay Armstrong
The Thumb Culture team discuss Cross platform, cross progression and everything in between. Join them as they give their opinions on the industry and give thoughts on how cross platform play could become the new normal.
Sunday 20th 2pm
Instigating fear in video games
Panellists: Louise Blain, Omar Bik, Barney Pratt, David Bergantino and Ignacio Herrero
Writer and host Louise Blain is joined by panellists Omar Bik (Red Ego Games), Barney Pratt (Supermassive Games), David Bergantino (Red Ego Games) and Ignacio Herrero (Protocol Games) to discuss the methods that developers use to create fear in modern horror games.
Sunday 20th 3pm
Gamers Beat Cancer
Panellists: Steven Bracewell, Catherine Knibbs, Ben Nicholls, Andrew Berry AKA Harvey Toadface, Dr David Tully
Gamers Beat Cancer discuss the effects of gaming on cancer patients & their caregivers, helping to improve mental health. We discuss the benefits how it help during and also after treatment has finished, and helping raise awareness that how mental trauma is associated with cancer patients.
To keep up with the latest PAX X EGX announcements, sign up to join our community and score a sweet discount on our exclusive EGX Digital merch!
PAX X EGX is a HUGE global digital gaming event taking place on 12th – 20th September. Follow us on Twitter to join in on the 24/7, around-the-clock fun: https://twitter.com/EGX